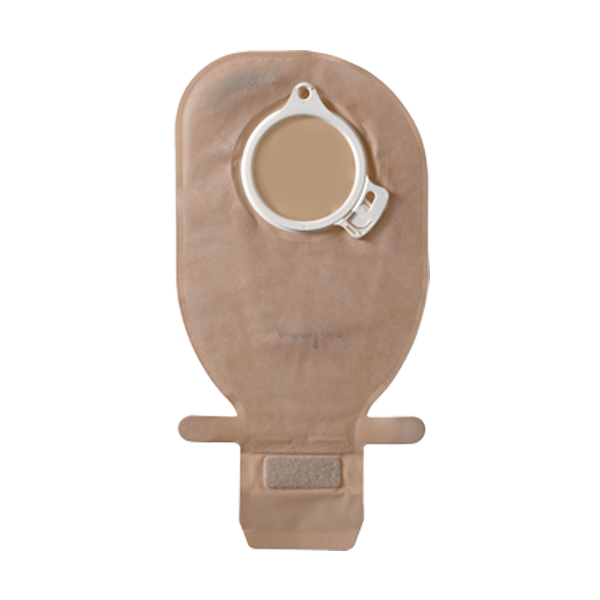 Assura® New Generation 2-piece drainable pouch
13924
Spiral adhesive for security and skin friendliness with an audible 'click'
Assura® 2-piece is a mechanical coupling system that combines the unique spiral adhesive with an audible 'click' to ensure safe locking of the pouch to the baseplate.
Assura® 2-piece drainable pouch is a mechanical coupling with extra reassurance
The pouch is fixed securely to the baseplate with a mechanical coupling system. An audible 'click' confirms the secure locking of the pouch to the baseplate.
Before the pouch is locked into position, it can be rotated into the desired position, without having to remove the pouch from the baseplate.
The pouch can be removed from the spiral adhesive baseplate, allowing the pouch to be changed more often than the adhesive baseplate.
 
Assura® 2-piece drainable is available with a flat or convex standard wear and extended wear baseplate. The broad assortment consists of a range of baseplates with pre-cut or cut-to-fit sizes that can be customized, and with pouches in a variety of sizes available in transparent or opaque.
 
Spiral adhesive, for security and skin-friendliness
The Assura® spiral adhesive is a combination of materials designed for security and protection in a spiral-structure, for:
Secure adherence to your skin
Absorption of moisture from your skin - providing skin-friendliness and protection from irritation
 
Assura® [Extra] adhesive offers extra protection against aggressive output. It is suitable for people with an ileostomy or urostomy that have a more aggressive output that breaks down standard adhesives too quickly.
 
A comfortable and discreet pouch
Assura® 2-piece drainable has a range of features designed to offer comfort and discretion:
Hide-away outlet - the outlet is easy to empty and clean, and has an integrated Velcro® closure that can be easily tucked away – without the need for a closure clamp.
Efficient filter - the integrated three-layer filter avoids the risk of the pouch ballooning up and causing unnecessary bulges, and neutralizes odour.
Soft backing fabric - strong and water repellent, allowing for easy drying after a wash or swim.
 
Convexity, for stomas that are difficult to manage
Assura® 2-piece drainable is available with two different levels of convexity, designed to help a stoma that is difficult to manage, for example a stoma that is flush, retracted, or located in a skin fold. It applies pressure on the peristomal skin to reduce the risk of leakage by allowing the stoma to protrude.

Convex light:
A solution for flush or slightly retracted stomas, providing extra security through light and delicate pressure on the abdomen.

Convex:
A solution for retracted stomas and deep skin folds and scars, providing extra security through moderate to high pressure on the abdomen.
Ask your enterostomal therapy nurse for more information about convexity.