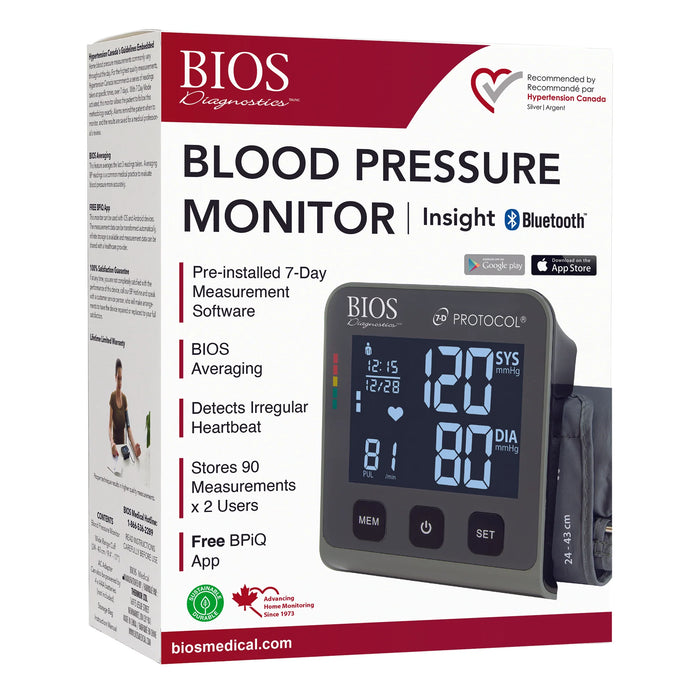 BIOS Blood Pressure Monitor – Insight
BD252
To determine your "real average" blood pressure, it is important to measure early in the morning and 2 hour after dinner. The BIOS Protocol 7D is specifically designed to help patients follow Hypertension Canada's recommendation to take measurements in the morning and evening for 7 days.

At the users option, the device can be switched to "7 Day Mode", which prompts users to take the BP readings at the proper times, and provides the proper averaging over 7 days. Following this protocol allows physicians to diagnose, and treat your hypertension more effectively.

This blood pressure monitor can connect via Bluetooth to current Android and IOS devices. The BIOS "MediLink" App enables users to send secure data to a physician for interpretation and diagnosis. Users can set reminders to take their readings at the proper times. You and doctor can view specific time period, 7 days, 30 days, 90 days or 1 year of data, in table or graph form. Register for the Free "MediLink" App. All information cannot be modified and is secure.

By following the 7 Day Protocol you can determine your "real" average blood pressure levels with high certainty which can be used by a medical professional to diagnose and accurately manage hypertension.
*BIOS Medical is the #1 Canadian Blood Pressure Manufacturer, according to 2021-2022 Nielsens Sales Data for Thermor Ltd. manufacturing. BIOS Medical is a division of Thermor Ltd. 
 Features:
Protocol Software

 

is pre-installed in the device and simplifies home measurement procedures recommended by Hypertension Canada. This enables users to determine their real average blood pressure. Physicians can use the results stored in the tamper-proof log to help diagnose your individual condition.
Free MediLink App

 

- This monitor will connect via Bluetooth to Android and iOS devices. The MediLink App enables users to send secure data to physicians for interpretation.
Large display 9.6 x 7.0 cm / 3.8" x 2.6"
Memory Features

 

2 users, 90 blood pressure readings each with time and date.
BP Assessment Indicator

 

displays the range between which your blood pressure values lie, according to Hypertension Canada.
Irregular heartbeat detection
BIOS Averaging

 

- Averages last 3 readings.
Time and Date
Alarms

 

- Users can set reminders to take measurements at proper times.
Lifetime limited warranty
Includes:
Wide range cuff: 24 - 43 cm / 9.4"-17"
Storage case 

AC/DC Adapter