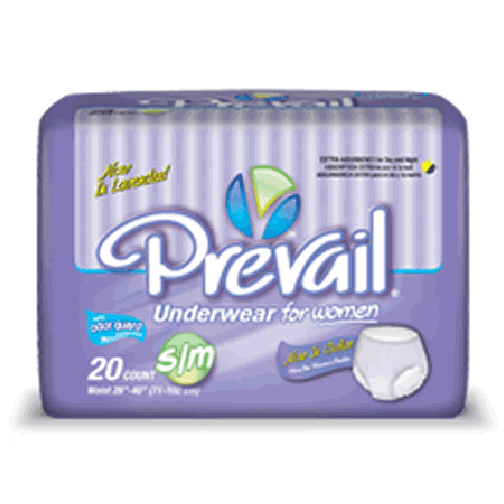 Prevail Underwear for Women
740-PWC-512
Prevail Underwear for Women, manufactured by Prevail, are Adult Incontinence Underwear designed specifically for the female shape. These Incontinence Underwear for Womenconform to the body with breathable, stretchable side panels. These Prevail Underwear have a maximum absorbency core. This discreetly fitting pull-up style brief has an odor blocking technology integrated into the absorbent core, so that urine odors are not present. Women do not have the same requirements as men, so these adult pullups have a super absorbent polymer in the area that women need it most. Due to the precise fit, these Adult Incontinence Underwear are suitable to wear during the day or night.
Prevail Underwear for Women Features and Benefits
Maximum absorbency core.
Contour hugs the female shape.
Can be worn at night or during the day.
Odor block technology.
Breathable waist band.
Prevail Underwear Specifications
Prevail underwear for women product numbers: PWC512, PWC513, PWC514.
Sizing label printed inside the back of the underwear.
Maximum absorbency.
Stretchable material.
HCPCS Code: A4520